Kangana Ranaut Slams Brahmastra Team: Ranbir Kapoor and Alia Bhatt's film Brahmastra has been released in theatres. Brahmastra, made under the direction of Ayan Mukerji, has received mixed reviews. Some people are calling this film very good, while some are calling it a disaster. It took Ayan Mukerji many years to make Brahmastra. After getting mixed reviews, this film has proved to be successful at the box office. Brahmastra has done a great job on the opening day. Bollywood actress Kangana Ranaut is furious on the team of Brahmastra. He has targeted the team of Brahmastra by sharing the post on social media. Not only this, Kangana has even said that Ayan Mukerji has burnt Rs 600 crore.
While sharing the negative review of Brahmastra on Instagram story, Kangana has called the makers a liar. Sharing the review, Kangana wrote – This happens when you try to sell lies. Karan Johar forces people to say in every show that Alia Bhatt and Ranbir are the best actors and Ayan Mukerji is a genius. Gradually, he has started believing in this too. What else does the budget of 600 crores of this film tell, a director who did not make any good film in his life. Fox Studios had to sell itself to fund this film. And how many studios will be closed because of these films.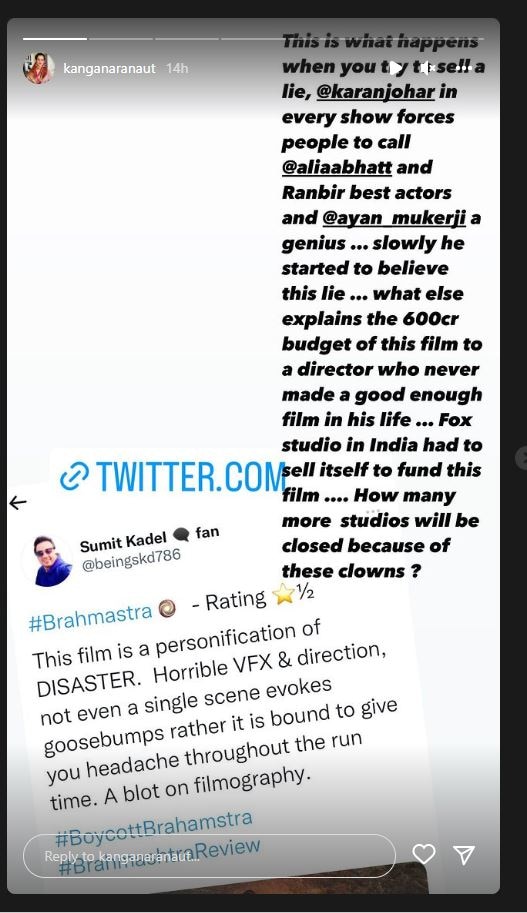 Those who call Ayan a genius should be jailed
Kangana wrote in her next story – Those who call Ayan Mukerji a genius should be sent to jail immediately. He took 12 years to make this film, changed 14 DOPs, shot the film for more than 400 days, changed 85 assistant directors and blew 600 crores. At the same time, changing the name of the film at the last moment hurt religious sentiments. Such opportunistic people, people deprived of such creativity, success hungry people, if they are called geniuses, then this is a well thought out strategy, to say day to night and night to day.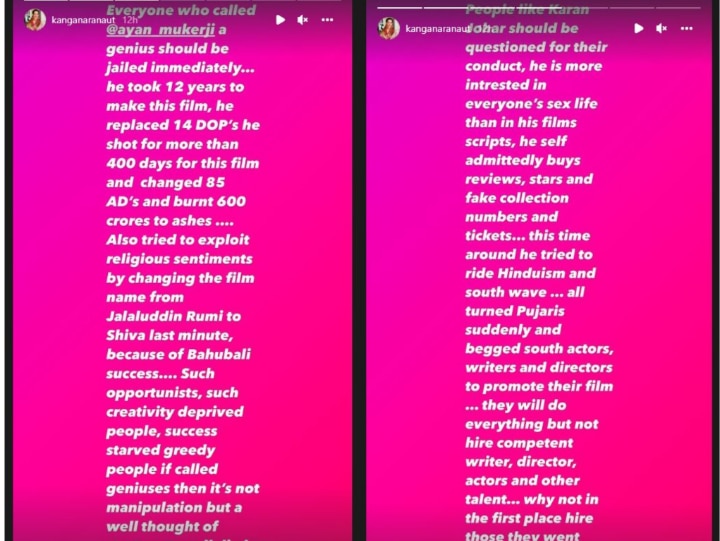 Targeting Karan Johar
Kangana Ranaut did not stop here, she further wrote – Questions should be asked to people like Karan Jaur. He is more interested in the sex life of everyone than the script of the film, he has admitted that he buys reviews, stars and false collection numbers. They can't make a good honest film.
Also read: Brahmastra Box Office Collection: Ranbir-Alia's film will end Bollywood's drought! bumper earnings on opening day
Honey Singh Divorce: Honey Singh will give such a huge amount to the wife after the divorce! Broken… 10 year old relationship